"To The Above" Heavyweight Hoodie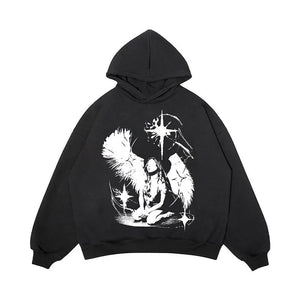 "To The Above" Heavyweight Hoodie
Regular price
$56.95
Sale price
$36.95
The Hottest Streetwear.
This piece is going viral and for good reason...
Introducing the "Trippie Supply To The Above Heavyweight Hoodie" - the perfect mix of style, comfort, and durability. Crafted with utmost attention to detail, this hoodie is designed to elevate your fashion game while providing ultimate coziness for colder days.

Made from a premium blend of materials, this heavyweight hoodie guarantees superior warmth without compromising on breathability. With its soft, brushed interior, you'll experience unrivaled comfort as it envelops you in a cloud of warmth. Whether you are heading out for a casual hangout or simply lounging at home, this hoodie offers the ideal balance of functionality and fashion.

The "Trippie Supply To The Above Heavyweight Hoodie" showcases a modern, minimalist design that effortlessly complements any outfit. Its sleek and clean aesthetic makes it a versatile wardrobe staple, suitable for various occasions. Be it for running errands, meeting up with friends, or venturing out for an adventure, this hoodie will effortlessly elevate your style quotient.

Crafted with meticulous attention to detail, this hoodie boasts features that set it apart. The adjustable drawstring hood provides additional protection from the elements, while the spacious kangaroo pocket offers a convenient spot for warming your hands or storing small essentials. Its ribbed cuffs and hem ensure a snug fit and prevent cold drafts from sneaking in, keeping you cozy no matter what.

Not just a fashion statement, the "Trippie Supply To The Above Heavyweight Hoodie" is built to withstand the test of time. Its heavyweight construction ensures long-lasting durability, allowing you to enjoy its superior quality for years to come. Whether you're on the move or relaxing at home, this hoodie will remain a steadfast companion, thanks to its exceptional craftsmanship.

Available in a range of classic and trendy colors, finding the perfect match for your personal style is effortless. Whether you prefer timeless neutrals or eye-catching hues, we have something to suit every taste, ensuring you always look your best.

Experience the perfect blend of fashion, comfort, and durability with the "Trippie Supply To The Above Heavyweight Hoodie." Elevate your wardrobe game and embrace the coziness that this hoodie offers. Order yours today and embark on a stylish journey like no other.
Vintage inspired design.
Size Guide
Order 1-2 Sizes Up!
Please choose the size that WILL FIT you!
Measurements are in inches/centimeters!
Why Trippie Supply?
Unmatched Style: This is perhaps the best piece on the market to stay trendy while looking stylish. Why sacrifice one for the other?
Super Lightweight Design: You can comfortably wear this piece for hours, no stress. Thanks to our high quality of craftsmanship and materials, we can assure you will be 100% satisfied with your product.
30 Day, 100% Exchange Guarantee: After you receive it, we're so certain you will love it that if you don't, you can send it back. No Hassle. For a full exchange or in store credit.
NOTE: Please refer to our sizing chart before placing your order.
Limited Time Only!
Customers are currently viewing these items